We have a wide range of rental equipment for film, tele-dramas, documentaries, music videos and TV commercials. All our equipment is available for short or long-term rentals. We also do corporate, wedding, news, and public events. We specialize in digital cameras, ARRI lighting, Cine, Canon, Zeiss, and Nikon lenses, steady cams, Jib cranes, track dollys, vision mixers, underwater cameras & housings, helmet & sports cameras, and covert button & surveillance cameras. We also have sound equipment - lavaliere (Clip-on) microphones, shotgun and boom microphones.

We primarily use Sony PMW-EX1 and the Sony PMW-EX3 for film and tele-drama shoots. We aslo have MiniDV format cameras such as the Sony Z1Us and PD-170s. We also have a variety of speciality cameras:






We have a wide array of Lights from Tungsten, to HMI Lights. Please see below for all your lighting needs.



"Sound is 50% of your production." Do you know how amatuerish a production looks to your audience when the sound is out of sync with the actors' lip movements. Do you know how irritating it is to an audience when the actors voices cannot be heard properly or are too loud? Most productions neglect the importance of good clear sound. Save time and money on your production capturing quality Live Sound instead of using an expensive dubbing studio. Bad quality sound destroys the fantasy story you have created with your film or show. Allow your actors to give you their best performance during your live takes instead of trying to artificially recreate those past emotions in a dubbing studio.



We have all standard professional film equipment. Please contact us if you need special requests.



We primWe have all standard professional film equipment. Please contact us if you need special requests.

While we have PC editing systems, we primarily use an Apple environment with state of the art Mac Pro Towers with customized hardware and software to enable most VFX, CGI and digital special effects editing. All software available: AutoDesk Maya 3D, 3D Studio Max, Adobe After Effects, Cinema 4D and Soundtrack Pro, Garage Band, Pro Tools, Adobe Premiere Pro, Final Cut Pro and a host of other industry standard software. We also have Beta Transfer facilities, DVCAM, Mini DV, and DVC PRO handling capabilities. All of our edit rooms are clean, new, dust free and air conditioned.
Editing facilites are available 24 hours a day and all equipped with voltage stabilizing inverters and UPS backups to combat power cuts and surges. We know how important your deadlines are and our facilities are 100% reliable when the rest of the country is not.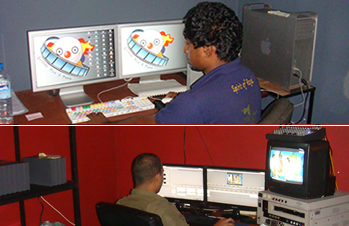 Our green/blue screen studio is ideal for TV Commercials, Interview Shows, Politcal Advertisements using a Tele-prompter and a host of other productions where you need to key out backgrounds. It is also fully air conditioned and with built in studio lighting.
We also have full body green & blue screen body suits, and portable green screen backdrops for working in other locations.